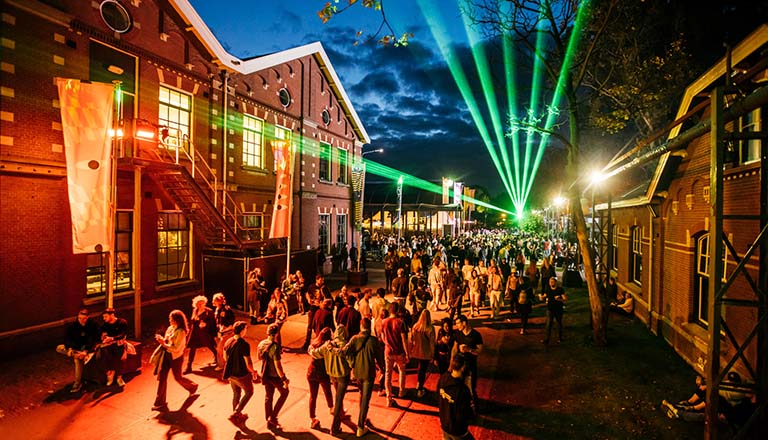 Guide
Venue & Hours
Middenweg, 72
1506 PR, Zaanstad
Event Hours
FCKNG Serious with Boris Brejcha
Friday 21 October: 6PM – 1AM
Secret Project Festival
Saturday 22 October: 12PM – 11PM
Entrance
Make sure to bring your ID and your ticket. The minimum age for the event is 18+. We cannot grant access to visitors younger than 18. Therefore it is important to take legal identification with you for security to check your age. You can scan your ticket through your phone.
Handbags
As a standard procedure, all visitors and crew are thoroughly inspected. Visitors are not allowed to bring luggage and/or backpacks to the event. You are allowed to bring handbags to the event with a maximum size of A4 and 10 cm thickness. The safety of our visitors is always a high priority. In regard to recent developments worldwide, we are extra cautious with all procedures. We ask for your understanding in this.
Lockers
Lockers are available in presale and at the venue. Lockers can be only bought cashless (by card) and in advance, online. Please visit this page again later to pre-book your locker.
You can store your belongings in the lockers on location. There are medium (25x25x40cm) and large (25x35x40cm) lockers available for one or for two days.
Payment Methods
Secret Project Festival is cashless. No need to get tokens, you can just easily pay for your food/drinks directly at the counter.
You can pay by credit or debit card and pay by Maestro, Vpay, Mastercard or VISA. As you won't need cash, there won't be any ATM machines at the festival grounds.
Only brought cash? Please go to the cash card top up station at the information desk to get a prepaid pin card. This card is non refundable.
Public Transport and Parking
Public Transport (+ Shuttle Bus)
The best and easiest way to get to the festival is to take the train in combination with the shuttle bus. We encourage everyone to choose environmentally friendly means of transportation. Plan your trip from anywhere in the Netherlands to NS Station Zaandam by using this link. After you reached NS station Zaandam, we strongly recommend you use the shuttle bus to get to the festival and the other way around. Check the section 'shuttles' for more information.
Parking
There is no parking availability in or around the venue. We strongly advise you to visit the venue with public transport or park at Q-park Hermitage.
Parking (+ Shuttle Bus)
If you want to park the car, we advise you to park with Q park hermitage. Via the links below, you can purchase your parking ticket.
Please note, after you parked your car, we advise you to take the shuttle bus to the festival site. The Q-park garage is located next to the shuttle bus terminal (NS Station Zaandam). Check the section 'shuttles' for more information. Please note the parking ticket is not a valid shuttle bus ticket, buy your shuttle bus ticket here
Shuttles
Information on shuttle busses will be shared as soon as it's available.
Bike
Traveling by bike from Amsterdam. The easiest way is to use the Hempont to Zaandam.
The ferry operates every 20 min and 24/7. See timings below:
From Hempontplein to Zaandam (festival) at :00, :20, :40
From Zaandam (festival) to Hempontplein at :10, :30, :50
Follow the signs to the designated bike parking area on 'verdedigingspark'
Taxis/Uber
Taxis can be found at the Cornelis Ouwejanstraat in Zaandam.
Earplugs
A party without music is like a carbonated drink without fizz. But going deaf, or having ringing in your ears that simply won't go away, is a very sad memento of a good party. So go easy on your ears and be sure to wear ear plugs if the sound level exceeds 80 dB(A). Earplugs can be bought at the merchandise- and info stand.
Celebrate Safe
During Secret Project Festival we celebrate safely. When you (or your friend) are not feeling well, please visit our first aid team. The first aid team is your friend and are here to help you without judgement.
In addition to doing everything we can as an organization to create a safe environment, we also think it is important that you look out and take good care of yourself and others.
Any form of harassment is absolutely not tolerated and neither is violence. Inform the venue staff right away when you or someone else is in need of help.
If you are in doubt of a situation, ask the person 'are you okay?'
Zero Tolerance
We have a zero tolerance policy and so discourage you to bring (soft)drugs to the event. If one of these is detected during visitation, you will be denied access to the event. Public use of drugs at the event also leads to removal. Please respect our regulations.
Lost & Found
Found items can be brought to the merchandise- and info stand, which can be found in the entrance hall. Have you lost something? During event you can check the merchandise- and info stand.
Weather
The festival will take place rain or shine. Please keep up-to-date on weather reports and plan your attire and preparations accordingly.
Food & Drinks
Food trucks are available and plenty of bars as well, all over the venue.
Semi-Professional Photo Equipment and Selfie Sticks
Bringing professional or semi-professional equipment to this event is strictly prohibited, unless agreed upon otherwise by means of an assigned press accreditation. Selfie sticks longer than 1 meter are prohibited as well. Normal digital or other cameras and GoPro cameras are permitted.
Pickpocketing
Please be aware of your valuable belongings and keep an eye out for pickpockets.
Questions
Still have some questions? Contact us and we'll get back to you ASAP!