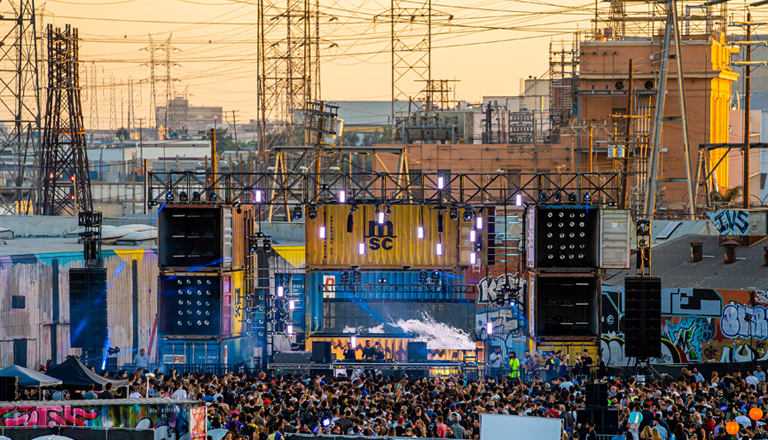 Guide
Venue & Hours
Hemkade, 18
1506 PR, Zaanstad
Saturday, October 16
Event Times: 12pm–11pm
Box Office Times: Info coming soon
Weather
The festival will take place rain or shine. Please keep up-to-date on weather reports and plan your attire and preparations accordingly.
Zero Tolerance
We have a zero-tolerance policy for drug use and possession. Police officers will be working inside and outside of the event, and all narcotics laws will be strictly enforced. Be responsible, and make smart choices.
Security & Entry
By purchasing a ticket, you agree to submit to a thorough, TSA-style search, including emptying your pockets and bags, having all of your items examined, a full pat-down, and possibly removing your shoes. We reserve the right to refuse entry to anyone.
Ages & ID
You must be 18+ to enter. Valid photo ID is required.
INFO COMING SOON
Festival Policies
INFO COMING SOON
Acceptable Items
INFO COMING SOON
Prohibited Items
INFO COMING SOON
FAQ
When does the ticket sale start?

The ticket sale of Secret Project Festival starts Thursday the 24th of June 16:00h CEST.
I need a fan account to purchase tickets. How can I create a fan account?

Create your fan account here by filling in your personal details as you normally would when purchasing tickets. You can easily log in and check out in just a few clicks. Is the event closing in? Your tickets can be found in your fan account.
Do I need to personalize my tickets?

Yes, personalizing your tickets for Secret Project Festival is mandatory. You will receive an email from Paylogic on the Monday the 28th of June 2021 which contains a link that gives access to the perzonalization page. The deadline for personalizing your tickets of Secret Project Festival is Friday the 10th of September 2021. When you haven't personalized your tickets, you don't have access to the event.
How does Send 2 Friend work?

You are going to Secret Project Festival and you have bought tickets for you and your friends. On the 28th of June you will receive an email from Paylogic which gives access to the personalization page. On this page you can invite your friends by mail to claim the ticket you bought for them using 'Send 2 Friend'. He/She is then able to claim the ticket and personalize the ticket themselves.
When I have personalized my tickets, is it possible to change the name on the ticket?

Yes, this will be possible later on for a small fee. Please keep an eye out!
When do I receive my tickets?

You receive your tickets on Saturday the 11th of September 2021. From this moment on you can also download your tickets from your Fan Account.
I didn't receive the confirmation mail, what can I do?

If you can't find your confirmation mail anymore, don't worry! You can go to this tool: https://consumer.paylogic.nl/tickets/ Fill in your email address you have bought your tickets with. You will then receive a confirmation email again.
What does a ticket insurance mean?

Ticket insurance means that you insure your tickets against unforeseen circumstances. If you cannot visit the event due to unforeseen circumstances, this will be covered by the insurance. PLEASE NOTE: Cancellation of the event due to COVID-19 is not covered with this insurance.
I have another question about my tickets, how can I get in contact?

If you have other ticket related questions, please get in contact with the Customer Service of our ticket provider via customerservice@paylogic.com.
What Covid-19 measures will be taken?

This depends on the developments surrounding COVID-19. Measures that are necessary at that moment will be taken and the visitors will be informed about this in detail. All regulations of the Dutch Government concerning COVID-19 will be complied.
Is the event wheelchair accessible?

Yes, Secret Project Festival is wheelchair accessible. Please send an email to amsterdam@secretproject.com so we can help you further!
IF YOU HAVE ANY OTHER QUESTIONS REGARDING THIS FAQ, YOU CAN SEND AN E-MAIL TO AMSTERDAM@SECRETPROJECT.COM. WE DO OUR BEST TO GET BACK TO YOU AS SOON AS POSSIBLE.